Automation Anywhere - Bot Store
Zendesk BOT
The Zendesk Utility bot is used to create, update, delete view and search tickets, users and organizations in Zendesk
Salesforce BOT
The Salesforce Mass Transfer Records Bot helps Salesforce admin to take care of Transfer of ownership of records.
SAP BOT
This bot automates the process of creation of quotation in SAP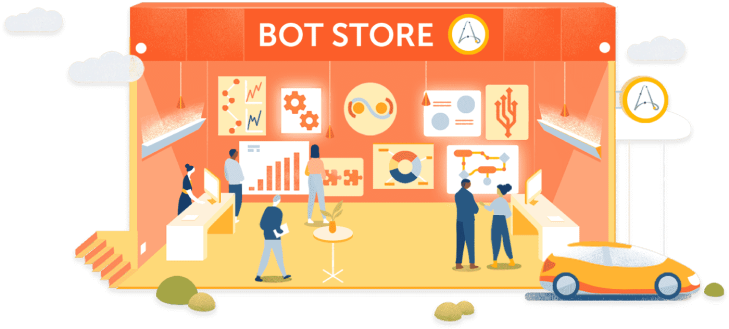 Save Time And Money-Shop Before You Build
Bot Store Delivers Pre-Built, Ready-To-Work, Digital Workforce
Turbocharge your automation journey with Automation Anywhere's Bot Store, the world's largest RPA marketplace. Shorten your time to value with an incredible selection of pre-built intelligent automation solutions.
Accelerate ROI on
RPA initiatives
Develop and deploy automation projects up to 70% faster by leveraging pre-built automation
Reduce RPA Total Cost of Ownership
Bot Store helps organizations recognize up to a 50% reduction in development, maintenance, and risk costs
Crowdsource
RPA Expertise
Leverage the global ecosystem of process experts, API developers, and partners
Industry-First Bot Security For Everyone
Business And IT Can Now Rely On Secure RPA Development With The Only Security Framework For Bots.
RPA security is ingrained within every aspect of the Automation Anywhere platform, and is now extended to enhance trust in bots. With the application of our bot security framework, all bots including those built in-house or procured from Bot Store, can now be deployed reliably with secure bot development practices in alignment with prevailing Confidentiality, Integrity, and Availability (CIA) cybersecurity principles and best practices.
Get Started With A Free Trial - Enterprise A2019
Revolutionizing your workforce and automating your business processes is just a click away