Enact® is a native-cloud Quality Intelligence platform powered by real-time Statistical Process Control (SPC). Whatever your industry, Enact can help you improve product quality in an affordable way and transform the way you view your quality data. Enact's Unified Data Repository brings together and standardizes all your quality and process data, helping decrease costs and enabling better, faster operations decisions.
Whether your company operates one manufacturing site or sites in multiple locations, Enact can help you meet your most pressing goals: reducing scrap and waste, improving product quality, and maintaining compliance. Enact enables manufacturers to quickly and easily reduce costs, increase profitability, and enhance brand reputation at an affordable price.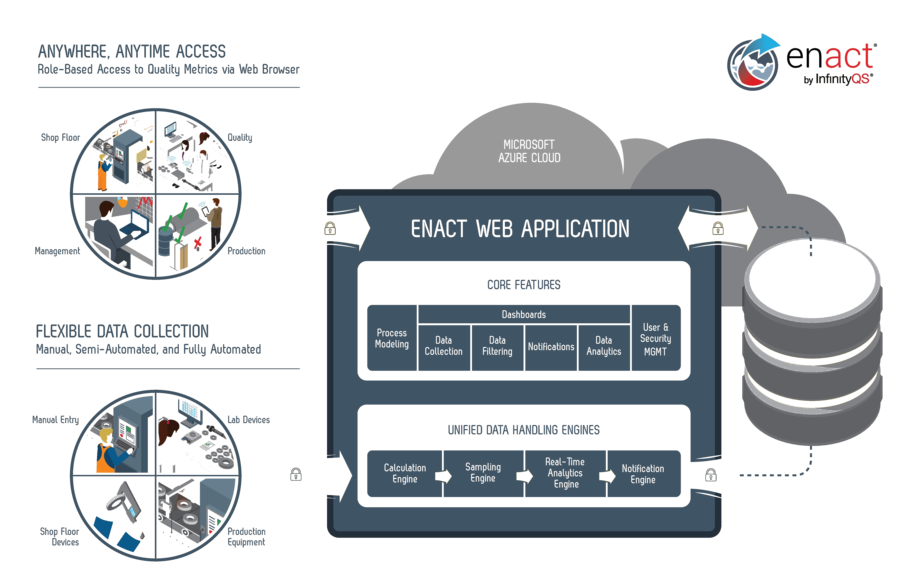 Uncover the power of the Enact Platform
Enact Meets the Needs of Your Organization - Whatever the Size
For small-to-midsize businesses
For large or enterprise companies
Unparalleled data visibility
Enact standardizes quality data, whether collected manually or automatically. Data is unified so that manufacturers can get a "big picture" view of process quality.
Targeted, strategic insight
Enact users get access to quality data and alerts based on their roles and responsibilities. Enact's SaaS model provides mobility and availability of data.
Secure, efficient, flexible deployment model
The SaaS platform also speeds implementation, swaps out time-consuming upgrades for updates, & minimizes TCO. Plus, Enact integrates with your existing infrastructure.
Scalability and cost-effectiveness
Fast, immensely scalable, and unbelievably affordable, Enact enables manufacturers to increase or decrease the size of their implementation as needed.
Data collection and visualization
Data collections support manual entry or semi-automated entry (through scales, calipers, etc.), are designed to be reused, and can be used on demand or at set time intervals.
Qsutra® is an Authorised Systems Integrator & Solutions Provider for InfinityQS for India, Sri Lanka, Bangladesh & the Middle Eastern countries. To know more about the product, write to us at [email protected]