Data Science and Machine Learning Platform
Build, Train and Deploy Neural Network Models.
Advanced Algorithms
Neural Designer contains the most advanced techniques for data preparation, machine learning, and model deployment.
Ease of use
There is no need to write code or assemble blocks, thanks to its intuitive graphical user interface. Provides you with comprehensive & visual results.
High Performance
Neural Designer uses high-performance computing techniques. As a consequence, it can analyse bigger data sets in less time.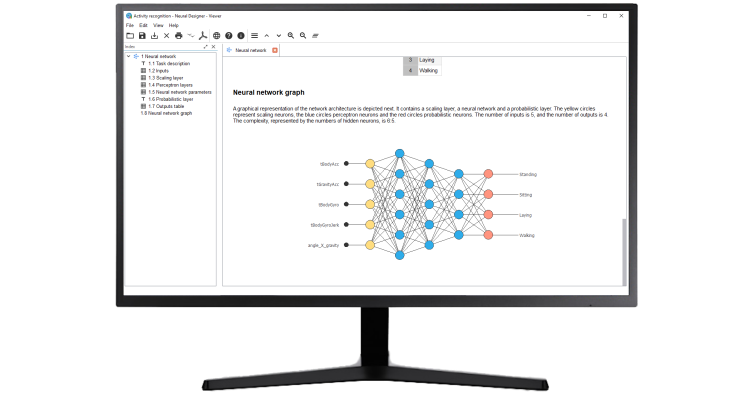 Neural Designer License Types
Standard
(Desktop and Cloud)
Standard license allows you to use the software on your computer whenever you need it, without any additional fees. Also, bring your existing license to the cloud using AWS Marketplace.
Academic
(Desktop and Cloud)
Academic license offers researchers, teachers, students, and whole universities unique licensing options. Note that proof of belonging to a university or research centre is required to be eligible.
Pay as you go
(Cloud)
Pay as you go license provides a range of pay per use options through AWS Marketplace, with no minimum commitments or upfront fees. It is priced by the type of instance in which you use the software.
For the current pricing & the applicable taxes for different licenses, contact our sales team.
Neural Designer Solutions
Engineering & Industry
Applications of neural networks in the engineering and industry sectors are countless. Optimise your process, improve your product quality & know about predictive maintenance.
Banking & Insurance
Neural Designer helps banks and insurance organisations to increase revenue, reduce costs and avoid risks. Customer targeting, customer risk assessment & customer churn prevention.
Healthcare
Neural Designer is transforming the practice of medicine. Helps practitioners to diagnose patients earlier, make predictions about their future health and treat effectively.
Retail & Consumer
Neural Designer helps retail organisations to acquire more customers (customer targeting), predict their churn, and forecast how much they will spend (sales forecasting).
Neural Designer is a data science and machine learning platform that helps you build, train and deploy neural network models. Using the available data, you can simulate and optimise the processes at your organisation. Neural networks are the most powerful technique for machine learning. With Neural Designer, there is no need to write code or build block diagrams. Instead, the interface guides you through a sequence of well-defined steps. Neural Designer also supports the whole modelling cycle, from data preparation to model production.
Try the Free Trial Version to start building your AI Neural Network Models
Discover relationships, recognise patterns & make predictions from your data