Product Lifecycle Management
Product Lifecycle Management – The must have System for Manufacturing Organizations to seamlessly Manage & have complete Control to Ensure Process & Product Excellence. Right from Conceptualization, Design, Production to Service and Disposal or Recycling.
With Qsutra PLM, organisations can efficiently Develop new products, Reduce Cycle time to market, Enhance supply chain agility, strategically collaborate with teams & make data-driven decisions.
Qsutra PLM offers a modern end-to-end PLM software solution. Whatever your industry type or size, our PLM solution has the flexibility & scalability to support your business and thus create better ROI.
Our PLM solution integrates with existing ERP, MES, CAD/CAM/CAE, IoT etc. to efficiently manage your Information Flow across all Stages & Stakeholders.
Qsutra PLM Salient Features
Real-Time Visibility & Data-driven Decisions at every stage of the Product Lifecycle
Data-driven decisions at every stage of the Product Lifecycle
( Custom Built - Modular - Scalable )
Bill of Materials Management (BOM)
Our PLM Solution helps you know your product by providing a common source of BOM information across your organisation. Depending upon your requirement, we can deliver basic BOM or more advanced BOM Management.
Change Management & Workflow
Digitise, Standardise and Optimise any PLM process. Managing product change can be particularly challenging. With Teamcenter®, organisations can reduce the manual effort & also the cost of managing any PLM Process.
Document Management & Publishing
Documentation plays a pivot role in the product lifecycle. Teamcenter® provides documentation tools to create specifications, analysis reports, 2D/3D illustrations, spreadsheets, technical publications, etc.
Electrical Design Management
Qsutra PLM solution helps organisations in CAD management, collaboration and validation. Automate your engineering modifications, validation & approval processes to speed cycle time & thus improve product quality.
Manufacturing Data & Process Management
Manage process resources for continuous improvement by establishing a single source of product and process knowledge. Easily collaborate between the design, production, and assembly operations with Qsutra PLM.
Materials Data & Lifecycle Management
The management of materials data is critical to the success of a product. Teamcenter® Integrated Material Management provides you with the ability to manage the lifecycle of all materials used in your particular product.
Product Configuration
Utilize product configuration management to handle more options with less effort. By incorporating product configuration into your PLM system, you can meet the demand for more advanced and varied product offerings, without increasing costs.
Product Cost Management
Early in the product lifecycle, perform product cost management to maximize product profitability. In addition to increasing speed and accuracy of request for quote responses, product cost management helps businesses to win more business.
Quality & Compliance Management
With Qsutra PLM, organisations will be able to reduce costs and improve quality while gaining a competitive advantage. Helpful in Continuous Improvement, Quality Assurance, Quality Planning & Supplier Quality.
Search & Analytics
With Search and Analytics, you can increase your productivity via intuitive PLM search. Teamcenter® allows you to find what you are looking for faster and to analyze findings more effectively. Make better decisions by knowing your product better.
Why an Organisation needs Product Lifecycle Management?
To Accelerate Digitalization. Throughout Product Development, Manufacturing, and Customer Service, Digitalization is delivering extended value. As organisations undergo Digital Transformation, they also must ensure digital continuity to reduce disruptions, minimise costs, enhance product quality and reliability, increase brand loyalty, and accelerate time to market. In general, the more an organisation can be assured of Continuity of Digitization, the more it will be able to manage and control the Whole Product Lifecycle End-to-End.
Deploy our Qsutra PLM Frameworks as it supports many functions throughout the Product Lifecycle, including Quality Planning, Manufacturing, Product Compliance, Cost Analysis, and more, so it can address challenges beyond core Product Development.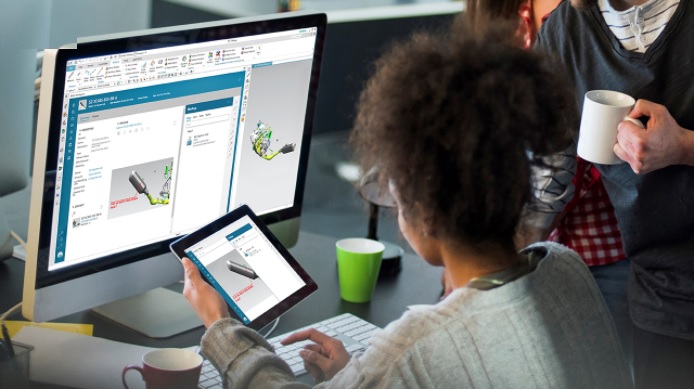 Business Benefits of Product Lifecycle Management (PLM)
Qsutra® offers a modern end-to-end PLM software solution to all industry verticals. Based on your business requirement, we will design, develop & implement the Right Framework for your Organisation. With Qsutra PLM, Organisation will be able to meet and exceed the market's demand for innovative and varied products with greater Flexibility and Scalability. Deploy highly AGILE Framework Solutions for the Organisation to achieve high Business Value.
We are an Authorised Siemens PLM solutions partner in India, offering complete services – Design, Implement, Deploy & Support.
Get Started with
Product Lifecycle Management
Explore how your Manufacturing Operations can be Digitally Empowered to
Deliver World-Class Products with Qsutra PLM.