Salford Predictive Modeler
Minitab's Integrated Suite of Machine Learning & Predictive Analytics Software
Machine learning and Predictive Analytics are the mostly used Data science disciplines in present industrial scenarios. Its applications can be seen across all domains like business, manufacturing, production, services, governmental agencies, scientific research, etc.
Salford Predictive Modeler® (SPM®) 8 is a Minitab's integrated suite of Machine learning and Predictive Analytics Software. It includes various Data Mining techniques like classification, clustering, association and prediction. Some of the other methods are regression, survival analysis, missing value analysis, data binning and many more. SPM algorithms are considered to be essential in sophisticated data science circles. SPM® 8 is a highly accurate and ultra-fast platform for developing predictive, descriptive, and analytical models from databases and datasets of any size, complexity, or organisation. It accelerates the process of model building by conducting substantial portions of the model exploration and refinement process.
The Salford Predictive Modeler® (SPM®) software suite includes CART®, MARS®, TreeNet®, Random Forests®, as well as powerful new automation and modeling capabilities not found elsewhere.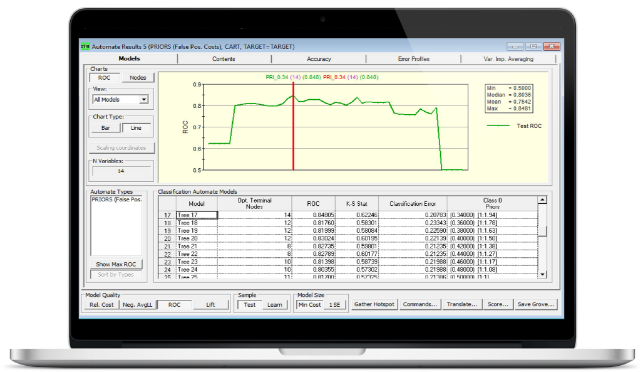 Salford Predictive Modeler® 8
Minitab's Integrated Suite of Machine Learning & Predictive Analytics Software
Get Started With Salford Predictive Modeler® 8
Qsutra® is the Sole Authorised Minitab Partner for Minitab LLC., Minitab Distributor and Minitab Reseller in India, Sri Lanka, Bangladesh & Nepal. Qsutra® provides Minitab's Training & Technical Support Services to its customers.
We provide services in Data Science areas like Machine Learning, Predictive Analytics, Data Mining and so forth. We also conduct various training programs – Statistical training and Minitab software training. Statistical training starts with basic level to advanced level. Some of the Statistical training certified courses are Predictive Analytics Masterclass, Essential Statistics For Business Analytics, SPC Masterclass, DOE Masterclass, etc. Now coming to Minitab software training, starts with basic to advanced level. Some of the Minitab software training certified courses are Minitab Essentials, Statistical Tools for Pharmaceuticals, Statistical Quality Analysis & Factorial Designs, etc. 
Our Minitab Customer Support team is the best place to reach out for any query you may have – Where to buy SPM® 8 Software in India, what is SPM® 8 Pricing model in India, clarity on SPM® 8 Licensing, interested in SPM® 8 Reselling etc. Buy SPM® in India. Buy Salford Predictive Modeler in India.
Write to us at [email protected]