Total Quality Management (TQM)
In today's globally competitive market place, quality plays an important role either in manufacturing or service industries. Controlling and improving quality has become an important strategy in both industries. Quality can be seen or defined from the two perspectives i.e. customer and producer's views. In this competitive world, quality has become one of the most important customer decision factors in the selection of various products and services. Thus for a profitable business, an organisation should impress customers by providing good quality products or services.
For example, we use products or services every now and then. Let say, it doesn't meet our expectation which means it is of bad quality. And 'if it satisfies our requirement then it is of good quality'. We should keep in mind that, regardless of the grade, the quality should be good. In any case, the quality cannot be compromised. Thus quality is a value for a performance or a service.
TQM is a set of guiding principles or say philosophy that helps an organisation for continuous improvement and meet desired quality goals. It can be applied to any kind of an organisation to achieve quality. Some of the benefits are customer satisfaction, employee empowerment, productivity, continuous improvement, better communication and so forth. It has now become important for organisations to develop a quality strategy by adopting the principles of TQM and can be achieved by long term planning.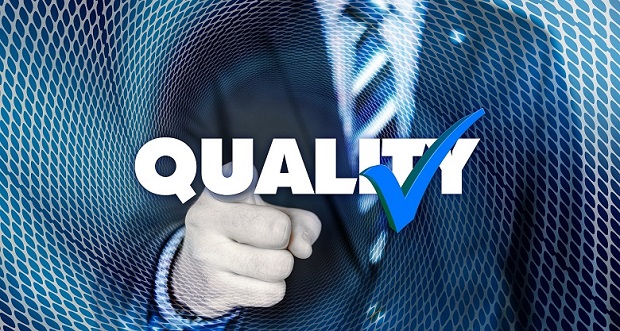 In this competitive world, every industry in many sectors has to compete with each other in terms of quality, production, revenue and so on. The main terminology which satisfies customer needs is "quality" which defines the company standard and values. Within an organisation, when TQM has implemented it helps for continuous improvement of process and gives consistently high-quality products. To create a TQM Framework, the organisation follow certain quality standards.
ISO defined TQM as "a management approach of an organisation centred on quality, based on participation of all its members and aiming at long term benefits to all members of the organisation and society."
TQM is defined by Deming Prize Committee as
set of systematic activities
carried out by the entire organisation to effectively and efficiently
achieve the organisation's objectives
so as to provide products and services
with a level of quality
that satisfies customers,
at the appropriate time and price.
TQM foundation is philosophical and uses scientific methods to create this foundation. It is a total system approach which includes workers from the base level to the senior executives in continual change for achieving quality in an organisation. TQM is also known by various names like Company-wide Quality Management, Total Quality Control or simply Total Quality. The term 'Total Quality' was used for the first time by Feigenbaum at the first international conference on quality control in Tokyo in 1969.
There were many phases in the evolution of quality management. Several genius minds have been instrumental to develop the concepts of quality management which are known today. Few of them are Walter A. Shewhart, W. Edwards Deming, Joseph M. Juran, Philip Crosby and Genichi Taguchi. Let's have a brief overview of the evolution of quality management.
During the 1920s, Walter A. Shewhart introduced statistical process control (SPC) to control product quality by usage of "Control chart". His work was later forwarded by W. Edwards Deming. He successfully applied Shewhart's methods during World War II to improve quality in the manufacture of weapons. After the war had ended, Deming and Joseph M. Juran introduced SPC & quality management methods to Japanese industry. It was implemented successfully for quality improvement goals. Later it was widely known as Total Quality Management (TQM).
In 1980s, Total Quality Management gained a lot of popularity outside Japan. Various methods were introduced to support TQM. These include Lean manufacturing and six – sigma. During the initial phase, quality was applicable only on manufacturing sector but now it has moved into areas like healthcare, financial institutions, academic, airlines and so forth.
Leadership – Without proper leadership approach, an organization can never achieve its goal and it plays an important role to flourish TQM in an organization. The leader should promote trust and equality on all levels.
Customer focus – We should design and produce products or services which should meet customer's expectation. As we know that for a profitable business, we should achieve customer satisfaction as they are the only ones which determine the level of quality. We should deliver good quality products and services.
Employee empowerment and teamwork – Management committee should encourage all the employees in all the levels. There should be mutual understanding and great teamwork between the employees of an organization. Proper training should be provided to all the employees regarding TQM. Make aware that every employee plays an important part to achieve quality.
Continuous Improvement – To achieve quality is a never-ending process as we say it is a continuous improvement process. TQM is long-term planning. We have to improve our process systems and thus prove efficient in every possible way. Employee involvement is an important factor for continuous improvement.
Decision Making – We should make a decision based on facts and keeping aside personal decision and opinions. This removes poor decision making in an organization.
On Quality Management field, the major experts which had contributed a lot in the success of TQM are W. Edwards Deming, Joseph M. Juran and Philip Crosby. We will discuss a few of the popularly used concepts from their philosophies.
Deming's 14 points of management
Create constancy of purpose toward improvement of product and service.
Learn and adopt a new philosophy.
Cease dependence on mass inspection to achieve quality.
End the practice of awarding business on the basis of price tag alone.
Improve constantly and forever the system of production and service.
Institute training on the job.
Institute leadership.
Drive out fear, so that everyone may work effectively for the company.
Break down barriers between departments.
Eliminate slogans, exhortations, and targets for the workforce.
Eliminate numerical quotas for the workforce and numerical goals for management.
Remove barriers that rob people of pride of workmanship. Eliminate the annual rating or merit system.
Encourage education, institute a vigorous program of education and self-improvement.
Top management commitment and action, put everybody in the company to work to accomplish the transformation.
Quality Trilogy by Joseph M. Juran
"Quality Trilogy" process starts with quality planning at the various level of an organization. It consists of
Quality planning – Here, strategic planning is done w.r.t customer needs, product design and specifications, features, etc. To understand the customer's needs is always a high priority during the quality planning process.
Quality control – After the planning phase, quality control takes over. Here, we need to know whether our process is in control or not. To know we take the actual measurements and set a goal for it. If there is an occurrence of variation in a process, we will try to identify the causes behind it and initiate the remedial action to back the process in control.
Quality improvement – The next and final phase is quality improvement. Here on this stage, we will go for continuous improvement of the product and the process. It will reduce the cost of poor quality products by installing new and upgraded machines and equipment, redesigning the existing process and so on.
Four Absolutes of Quality Management by Philip Crosby
In order to achieve product quality goals, Crosby emphasized four absolutes of quality management –
Quality is defined as conformance to requirements.
Quality is achieved by prevention of causes, not an appraisal.
Quality has a performance standard.
Quality is a measurement of non-conformance.
Join our webinar to know about Quality Improvement Initiatives